Peñuelas, Josep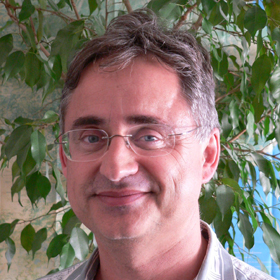 Joseph Panuelas
Joseph Penuelas is a Research Professor of National Research Council of Spain (CSIC) as well as the Director of the CREAF-CEAB-CSIC Global Ecology Unit located at CREAF (Center for Ecological Research and Forestry Applications)-Universitat Autònoma de Barcelona.
He is an ecologist working on plant ecophysiology andatmosphere-biosphere interactions. His recent subjects of study are: global change, climate change, atmospheric pollution, biogenic teemissions, remote sensing, and functioning and structure of Mediterranean terrestrial plants and ecosystems. Some of the most outstanding results of his research are the following ones: discovery of ecophysiological mechanisms linked to the carbon and oxygen use that help to explain the distribution of aquatic plants in rivers and lakes; the development of increasingly used remote sensing techniques to assess plant and ecosystem functioning; the report of current evidences of global change, climate change, and air pollution effects on structure and functioning of Mediterranean ecosystems; or the study of the mechanisms and the function and effects of volatile organic compounds emissions by plants and ecosystems. It is also outstanding his labour in journals and newspapers trying to popularise science issues.
Peñuelas has published
 6 books on ecology,
 more than 
600 papers in scientific journals and books 
(380 in journals of the Science Citation Index, including Nature, Science and PNAS), and more than 
250 articles on popular science
 in Spanish newspapers (La Vanguardia, Avui, El País, El Periódico...).
Recent or highlighted publications
Terradas J, Peñuelas J (2011) Misleading ideas about top-down and bottom-up control in communities and the role of omnivores. Polish Journal of Ecology 59: 381-389
Terradas J, Peñuelas J, Lloret F (2009) The Fluctuation Niche in Plants. International Journal of Ecology doi: 10.1155/2009/959702. Article ID 959702.
Saura S, Estiarte M, Peñuelas J, Lloret F (2012) Effects of climate change on leaf litter decomposition across post-fire plant regenerative groups. Environmental and Experimental Botany 77: 274-282.
Barbeta A, Peñuelas J, Ogaya R, Jump AJ (2011) Reduced tree health and seedling production in fragmented Fagus sylvatica forest patches in the Montseny Mountains (NE Spain). Forest Ecology and Management 261: 2029-2037.
Bernal M, Estiarte M, Peñuelas J (2011) Drought advances spring growth phenology of the Mediterranean shrub Erica multiflora . Plant Biology 13: 252-257.PROFILE
Contact:
CREAF - Global Ecology Unit 
Edifici C
Campus de Bellaterra (UAB)
Cerdanyola del Vallès
Office

:
C5b/028
08193 
Barcelona,Spain
Email: josep.penuelas@uab.cat