Sandoval Solis, Samuel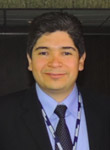 Samuel Sandoval
Samuel Sandoval is an Assistant Professor and Cooperative Extension Specialist. His expertise focuses in water resources planning and management. During decision making process, Samuel is the person between scientist, engineers, environmentalist, system operators and decision makers; he integrates ideas into policies and quantify benefits and drawbacks. Samuel shares his expertise and passion for quantitative water planning to students through his course of Water, Science and Management (ESM-121) where he demonstrates to student tools and methods to design sustainable water resources systems.
Education
Ph.D. Environmental and Water Resources - The University of Texas at Austin
M.S. Hydraulics - Instituto Politecnico Nacional
B.S. Civil Engineering - Instituto Politecnico Nacional


Research Interests
Designing sustainable water resource systems through: shared vision water planning, collaborative modeling, decision support systems; environmental restoration and conservation policies; hydrologic, simulation and optimization models; risk analysis; climate change and adaptive water management strategies; hydropower; conflict resolution; geographic information systems; and transboundary basins.
Contact:
Office: 135 Veihmeyer Hall
Phone: (530) 754-9646 Fax:
Email: samsandoval@ucdavis.edu
Personal Professional Website: http://watermanagement.ucdavis.edu